Just bought c series! Couple questions for you guys
12-17-2012, 09:31 PM
Member
Join Date: Dec 2012
Location: Alberta, Canada
Posts: 182
Likes: 0
Received 0 Likes on 0 Posts
2010 c300/2008 335i
Just bought c series! Couple questions for you guys
---
Hey everyone, new member to the forum from Canada.

so just picked up a 2010 c300 sport 4matic today! I am a hardcore BMW guy and coming over from an e46 m3 and most recently a 335i coupe. Basically what sold me on the c300 was it's looks and its reliability. I wanted a car i could drive all year round that was still enjoyable and fun to drive. I would have liked to go c350 or even c63 but maybe in a year or 2. For now the c300 will do the trick and so far from the 4 hours or so i've driven it today i really like it.

Having said that though, i find MB's dash interface/controls to be very confusing, and hard to get use to. I don't know what half the things do and it's kind of hard to get adjusted to it all.

I got a good deal on the car, but there was one thing that has already come up (not surprising with my luck) I have a "check front left parking lamp" warning on the dash and it won't go away. I checked the bulb, seems fine, everything is opperating fine but the message won't clear up. Is there a way for me to clear this message without having the dealer do it? Also i notice there is a small bit of condensation in that headlight which bugs the hell out of me. The car is still under MB warranty for the next 10,000kms or so. Is this something that would be covered?

My other question has to do with mods. I don't plan on doing anything performance wise. I rather just upgrade to a c63 then spend money on a bunch of silly add ons to this particular model. I do however want to do a front lip, a trunk lip spoiler and i would like to go with lowering springs and a nice set of 19's. I also want to switch out the diffuser and get the c63 one with quad exhaust. The car already has tinted windows so that saves me a couple $$ on a mod. Would like to get rid of the ugly orange reflectors on the bumper as well.

Is there a for sale section on this forum? I was constantly on the fs section on the bmw forums and frequently bought things from other members or sponsers on the board but so far haven't seen a dedicated area on MB world.

Could some of you help me out by suggesting good retailers? I also would like to know what common tire size/wheel size is used for 19's on these cars and what lowering springs you guy's suggest and what other common mods are popular with the c series.

Anyway, i'd like to know as much information as possible about our cars, so i will be doing some research around the forum.

Hope to be here for a while and make some new friends along the way!
---
Last edited by funkedelic; 12-17-2012 at

09:33 PM

.
12-17-2012, 10:12 PM
Super Member
~ congrats on your new mb purchase... (maybe us coupe owners can aid)
i had been a bmw guy too
('00 323ci spt pk, '02 M3, '06 330i spt pk 4-door, '09 328i spt pk 2-door)... and made the leap without any regrets.
i like to make changes to my cars that are subtle and only noted by a real enthusiast... the clean look if you will.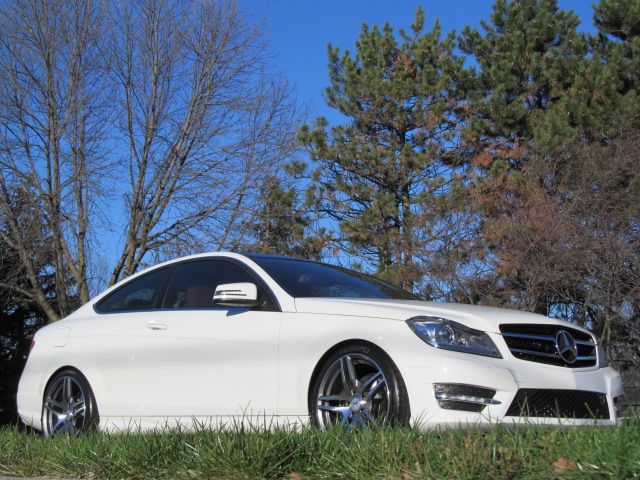 i went with the eibach pro-kit (along with 5mm rear spring pads). the wheels are a cl63 replica wheel (19x8.5 f & 19x9.5 r).
cheers and please share pics as you make your upgrades!
---
Last edited by andrew e coupe; 12-17-2012 at

10:24 PM

.
12-18-2012, 02:50 PM
MBWorld Fanatic!
Join Date: Sep 2009
Location: Dix Hills, New York
Posts: 2,108
Likes: 0
2012 C250 Coupe
You really would want to head over to the w204 sedan forum. They have a VERY detailed thread on stance, fitment, tire & wheel sizes, etc.

The front parking lamp is actually the orange "reflector" that you want to remove from your car. It should have a light behind it in an orange color. You can remove them and they offer clear replacements, or body color replacements, as well as various styled LED replacements.

There is a separate For Sale section in the forum. Just scroll down further when you see the screen for the various model threads.
12-20-2012, 01:27 PM
Junior Member
Join Date: Mar 2009
Location: Pittsburgh, PA
Posts: 23
Likes: 0
Received 0 Likes on 0 Posts
2012 C250, 2012 Audi Q5, 2012 VW Jetta