••• Project Stock to Awe •••
09-11-2014, 11:59 AM
Senior Member
Join Date: Feb 2003
Posts: 282
Likes: 0
'03 S55 (79K miles)
Wow. I stumbled on this thread (it is now September 2014) while searching for ideas to install an oil catch can on my W220 S55.

Here I sit, 12 hours later, feeling like I accidentally cracked open a novel that I could barely put down long enough to brush my teeth.

Finny: thanks for all your time and attention to details documenting the work you have done. It gives a part-time tinkerer courage to do more. Maybe I will actually be brave enough to cut an extra breather hose section of my stock motor....

I hope all is well with you.

PS: I never found what I was looking for about the catch can. ;-)
09-11-2014, 08:36 PM
PLATINUM SPONSOR
Great thread and good to see it brought back up.
__________________
E63 Biturbo, UPD Cold Air induction kit, UPD performance crank pulley and UPD adjustable rear suspension with ride height adjustment.
CL55 UPD Cold Air Boost kit, UPD 3000 stall converter, UPD 77mm SC clutched pulley and beltwrap kit, Custom long tubes, UPD crank pulley , UPD suspension kit, UPD SC pulley, Aux. HE, Trunk tank w/rule 2000 pump, Mezeire pump, UPD 5pc idler set, Aluminum rotor hats.
www.ultimatepd.com
instagram @ultimate_pd
facebook.com/ultimatepd
11-01-2014, 11:34 AM
Super Member
Originally Posted by
GrepAwk
Wow. I stumbled on this thread (it is now September 2014) while searching for ideas to install an oil catch can on my W220 S55.

Here I sit, 12 hours later, feeling like I accidentally cracked open a novel that I could barely put down long enough to brush my teeth.

Finny: thanks for all your time and attention to details documenting the work you have done. It gives a part-time tinkerer courage to do more. Maybe I will actually be brave enough to cut an extra breather hose section of my stock motor....

I hope all is well with you.

PS: I never found what I was looking for about the catch can. ;-)
Funny - I am looking for just the same and found this thread ..... really amazing ..... asking myself why I didn't see this before I went on with my own project.
There's not many Pioneers like Finny - so thank you very much Sir for going down that road
02-07-2015, 03:12 PM
Builds like this are absolutly the worst type you can have. So much work,dedication , research, money and custom work and your car performs no better than the guy next door. This build was nothing short of remarkable in every way!!! I am still in awe!!
I did a Buick Grand National build one time ,turbo, injectors transmission ,inter cooler, exhaust and god knows how many other mods and parts. My buddy had a completely stock car with 112,000 miles and his was faster in every respect. No matter what we did this pile of useless parts just did not make power. I guess it just happens.
02-09-2015, 11:52 AM
MBWorld Fanatic!
Soo... 10 years later and no one has come up with a top mount inter cooler kit for these engines?
02-10-2015, 08:05 AM
MBWorld Fanatic!
Join Date: Mar 2011
Location: The Granite State
Posts: 1,835
Likes: 0
.
02-09-2016, 04:18 PM
I know this is an old post but have a couple quick questions
---
Originally Posted by
Finny
About 4.5 ours total excluding Trans removal, Converter and Clutch mods.
Dean dose these things quicker but I slowed him down as I was under instruction... Ha Ha...
Here's a few shots of the heads & bump sticks being installed.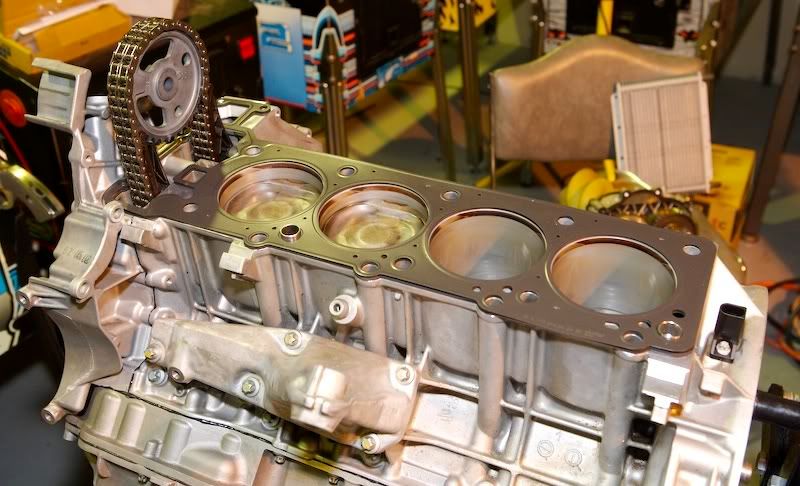 After cleaning the adjoining surfaces the so called OEM Merc gaskets are actually Cometic Multi-Layer Steel (MLS) head gaskets which go on dry because they are coated with a sealant. Each MLS gasket is coated with a .001" thick of viton rubber that is bonded to the outer stainless steel layers. No Re-torque is required with these hi techo gaskets. One of my mates use these on a 32psi turbo car with no worries at all. Apparently these are as good as "O" ringing or better which surprises me.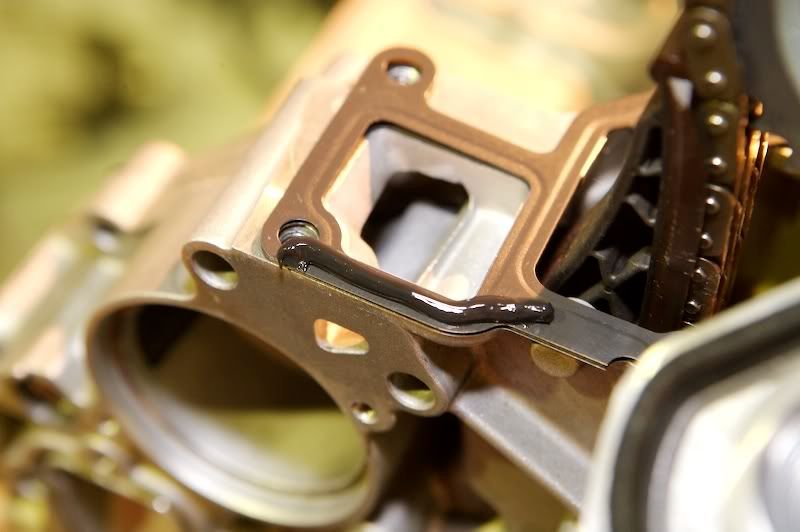 According to WIS we must put some goo here.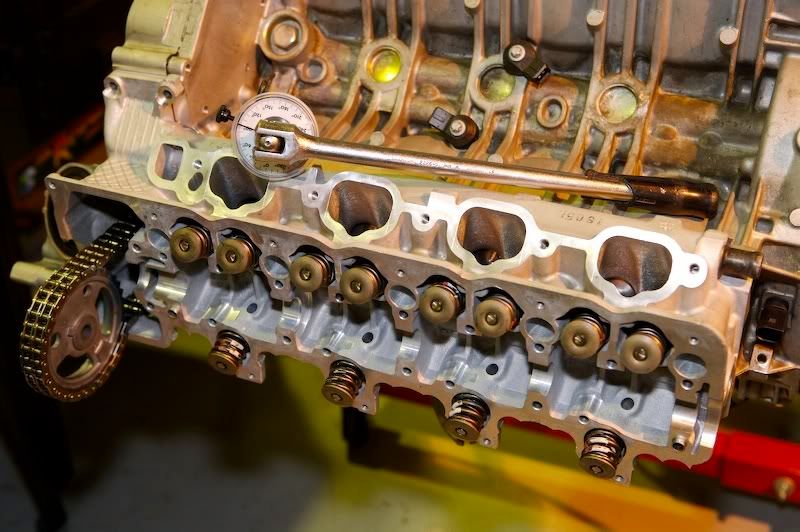 Bolted and torqued to the correct sequence.
Next Victim!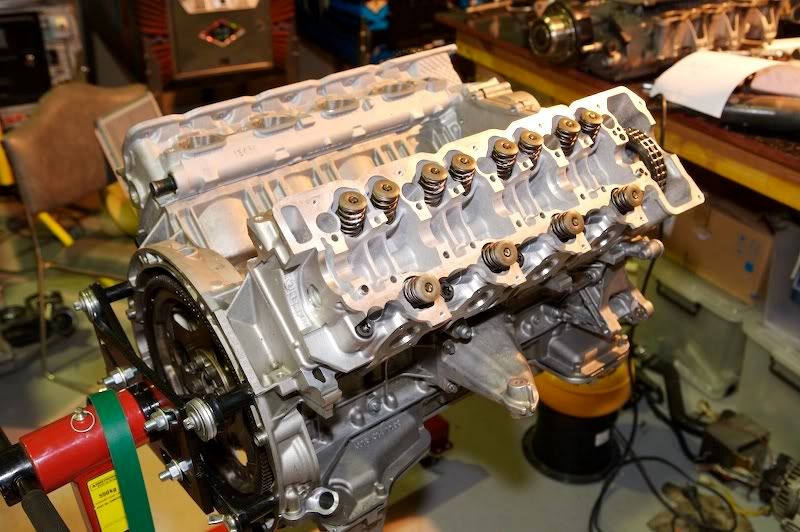 Done.
Now ready for the SLR bump sticks.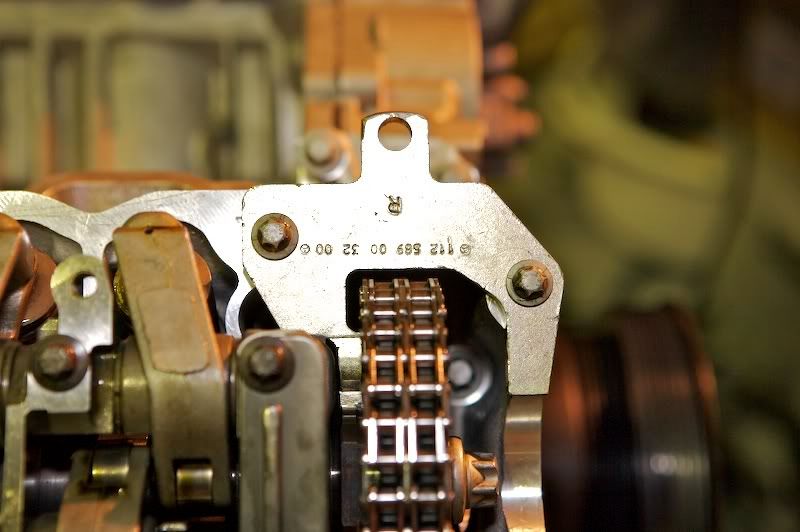 This is a MB cam locking tool which prevents the cam rotating which holds it the correct timing position with cylinder 1 up at 40.º
This tool is bolted on with the cam before the over head assembly is installed.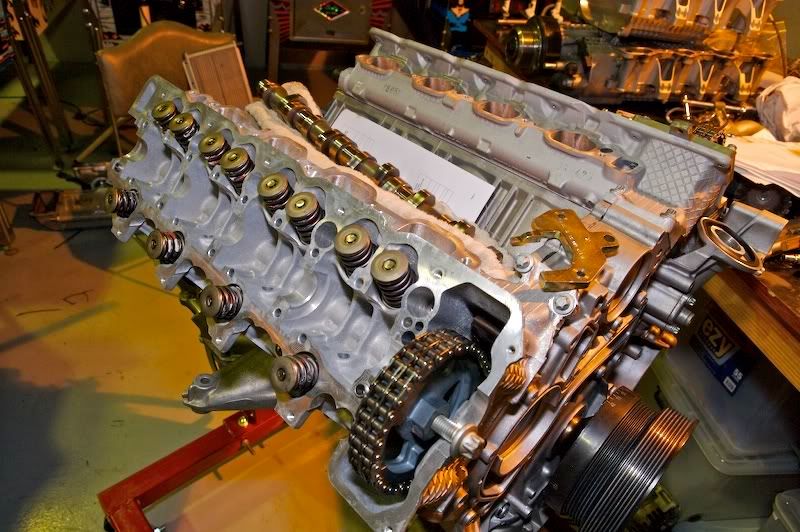 Right bank first.
Ready to rocker... Note cam tools still in place.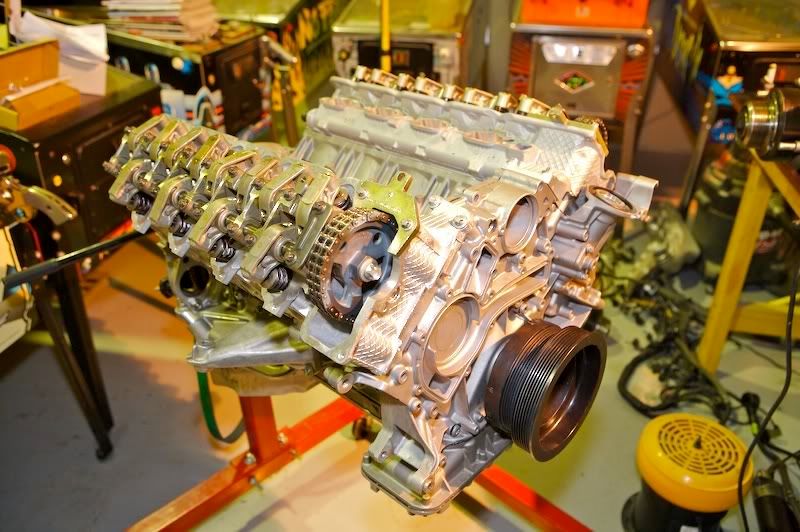 Rocker arms installed.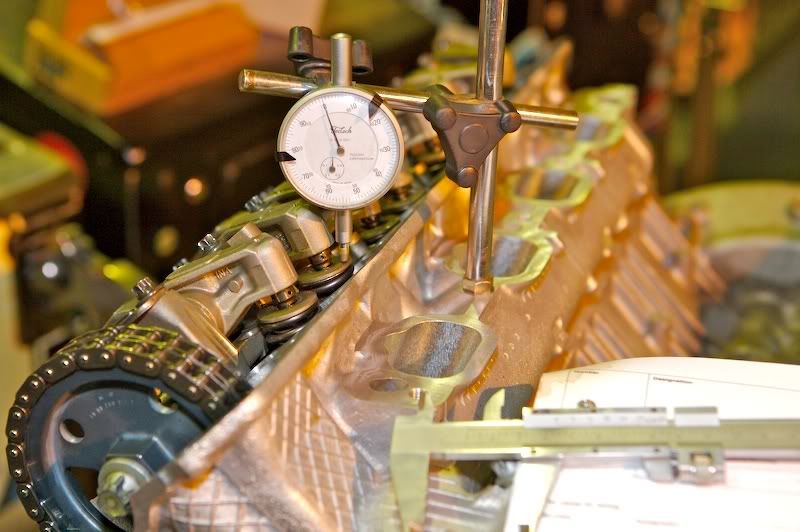 Just being sure to be sure. After an hour or so I couldn't work out why the timing was out of whack??? Duh!!! I was using the E55 timing specs not the SLR's !!! All checked out fine then...Duh????...
All done and ready for the next stage.
To be continued.....
I know this is old but I am in the middle of reassembling my engine. I have WIS and have answers to 98% of any questions I had/have. The few below I would rather find out from someone that has actually taken apart their engine and reassembled it. From the looks of your post it worked out very well.
Where the WIS states to apply sealant (single bead) on the left head where it is porous, is it both sides of the gasket or just the head side of the gasket.
Second did you clean the pistons still in the block or remove them?
Final question about supercharger. Since I have mine off the car I would like to change the oil and take it apart to make sure no damage. Is there oil in the rear of the supercharger where the rear bearings are? If so does it flow from the front or is it separate? When removing the the front clutch and housing are there alignment marks or can it go back together in any postion without damage?
I am not going near as wild as you are just trying to freshen up my engine. I have found everything on WIS expect the supercharger and about the sealant on both sides
Thanks in advance
Scott
10-12-2016, 07:13 AM
Newbie
Join Date: Dec 2015
Location: cannonvale qld
Posts: 5
Likes: 0
1987 w124 300d turbo, 2003 w211 e55
Hello everybody.

i have recently been in contact with finny !!!
He is alive !
i reached out to him in regards to the SLR intakes.

the discussion resulted in the answer that the hardiest part will be tuning a car with un mapped / altered AFR / the custom tune.

But i think now days it might be easier with more people able to write / edit the tunes for this car.

finny has recently been putting his time into projects other than his car.

he is looking in the future to rebuild / upgrade his engine internals.