Mercedes-Benz C-Class AMG: Performance Modifications
If you want to make your ride even more powerful and one of a kind, then performance mods are in your future. Continue reading to find out more.
This article applies to the Mercedes-Benz C63 AMG w204 (2007-2014).
The engineers at Affalterbach, Germany designed your C63 AMG to be as powerful and luxurious as Mercedes Benz wants it to be. But what if you want more? Aftermarket performance modifications are abound online, but only a few are high quality and reputable enough to be worthy of your AMG.
Performance Mods
ECUs, intake, exhaust, and superchargers are among the top performance mods to install. These can vary in difficulty of installation. So while you could install some of these yourself, you may have to visit a professional shop for others. Read this guide to find out what fits your taste and budget.
ECU
DIY Cost – $1,500-$2,500 for parts
Professional Cost – $50-$200 for labor
Skill Level – Easy; this installation doesn't require specialty tools or knowledge.
ECU stands for electronic control unit, and it's basically the brain of your engine. It decides how much air/fuel mixture it allows, how much air to breath, etc. And that's why they are so popular. Most ECUs are removed from the car, mailed to the tuning company (who changes the programming for more power), and then shipped back to be installed right back in. So it's also a very simple mod to perform. Prices can range from a small tuning company at just over $1,000 to almost $3,000 from vendors like RENNtech. Recommended for its easy installation.
Supercharger
DIY Cost – $12,000-$16,000 for parts
Professional Cost – $800-$1,500 for labor
Skill Level – Difficult; you will need to visit a professional for installation.
A supercharger is like a big air compressor that pushes more air with more oxygen into the engine; therefore, it burns richer and creates excess horsepower. According to MBWorld.org forum members, Weistec is the most reputable builder for C63 AMG superchargers. Weistec units are known to be largely trouble-free, and the C63's engine responds excellently to supercharging. Weistec offers several "stages" with their supercharger packages, and also offers various modifications. With each stage, it offers greater power threshold. Expect at least 100 horsepower gains at the flywheel. Recommended for its horsepower.
Intake
DIY Cost– $1,400-$2,700 for parts
Professional Cost – $200-$400 for labor
Skill Level– Moderate; this install requires solid knowledge of parts.
The intake refers to a couple of different components like air intake and intake throttle body. But most commonly is the air intake system that is modified to earn horsepower dividends. A modified air intake can allow the car to breath more, cooler air, creating more horsepower, torque, and faster acceleration. The big benefit to an aftermarket intake with the C63 is the change in sound with the big V8's induction noise being substantially more pronounced. Recommended for its sound.
Exhaust
DIY Cost– $800-$5,000 for parts
Professional Cost – $1,200-$2,500 for labor
Skill Level– Moderate; specialty tools and knowledge are required.
Adding an aftermarket exhaust system is one of the most common ways to add an aggressive tune to your AMG, horsepower, and torque. Installing an exhaust system could require metal cutting, welding, etc., so visiting a shop might be the best way to go. Some exhaust modifications are plug and play, so it can be installed easily at home. Ask your preferred vendor which systems require cutting, and which ones are plug and play units before buying. Recommended for its horsepower and torque.
Headers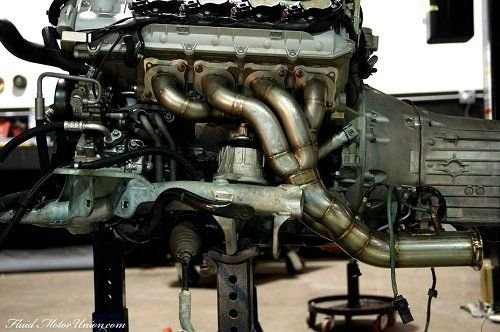 DIY Cost – $1,000 (used)-$3,000 for parts
Professional Cost – $500-$800 for labor
Skill Level – Moderate; it requires careful removal of the original manfolds, and swapping over the Oxygen sensors into the new headers.
Going to an aftermarket set of headers on the C63 is the best power modification that can be made, while naturally aspirated (i.e. without the supercharger). These are a proven power adder, and gains in excess of 30 horsepower is not uncommon. Aftermarket headers do delete the catalytic converters on your vehicle, so these are not recommended in areas that have emissions testing. Otherwise, headers will make the car faster, and sound even meaner. It's always fun making American muscle cars feel inadequate. Recommended for its speed and sound.
Related Discussions