Mercedes-Benz: How to Detail Your Car
Do you know which car detailing products on the market today deliver the most shine and protection for your Mercedes-Benz? Continue reading, and find out the best insider tips on detailing your vehicle like a pro with the help of this article.
This article applies to the Mercedes-Benz C-Class w204, w205 (2007-Present), and E-Class w211, w212 (2002-Present).
Before you attempt to detail your Mercedes-Benz C-Class like one of the professionals, there are a few things you might want to consider. For instance, is it possible for you to achieve the same results in less time and at a lower expense than experienced detailers? For all DIY-ers, the answer is yes. You can find affordable high-quality products that deliver the best shine and professional-grade look. However, many of these products are only as good as your ability to properly use them. So for those of you who have yet to detail a luxury vehicle, follow the directions below.
Materials Needed
Microfiber cloths
Formula 1 or Meguiar's shampoo
Clay bar and lubricant
Bucket and water
High-quality car polish
Optimum Car Wax or Durogloss Aquawax
Step 1 – Wash your car
Begin washing your car from the top, and continue to the rear as well as front ends.
Make sure to clean all surfaces from dirt, debris, and old wax.
Also, make sure to wash the wheels last.
Rinse the car with water, and repeat the wash as needed.
After the final rinse, do not dry your car just yet.
Pro Tip
It is recommended using Formula 1's Wash and Wax or Meguiar's Gold Class Car Wash and Conditioner. Both of these high-quality auto care brands are popular among detailing professionals, and each product is specifically manufactured to eliminate dirt, grime, as well as old wax while conditioning your paint.
Step 2 – Clay bar your vehicle
Using a clay bar will eliminate contaminants, and provide a smooth finish to your car's paint. It is only necessary to clay bar your vehicle twice per year. While your vehicle is still wet, run your fingers along the surface of the paint. If you feel bumps or unevenness from dirt or other contaminants, clay bar your vehicle. If you do not need to clay bar your vehicle, dry it and proceed to Step 3.
To do so, apply lubricant to a section of the paint. Glide the clay bar back and forth over the surface. Do not apply too much pressure.
Clay bar your vehicle one section at a time.
Step 3 – Polish the paint
Wipe the polish in small, circular motions with a clean microfiber cloth. Overlap your strokes to ensure you cover the entire area.
Allow the polish to settle for at least ten minutes.
Before it completely dries, lightly wipe off the polish using a clean microfiber cloth.
Pro Tip
It is recommended polishing your vehicle's paint with Zaino's Show Car Polish and custom polish applicator. This product is specially formulated for clear coat car finishes, and will greatly bring out the paint job on your C-Class.
Step 4 – Wax your vehicle
Wax your vehicle the same way as in the previous step.
Apply and wipe the wax one section at a time.
Allow the wax to settle for at least ten minutes.
Lastly, wipe away any remaining residue with a clean microfiber cloth.
Remember to wax your vehicle at least every three months.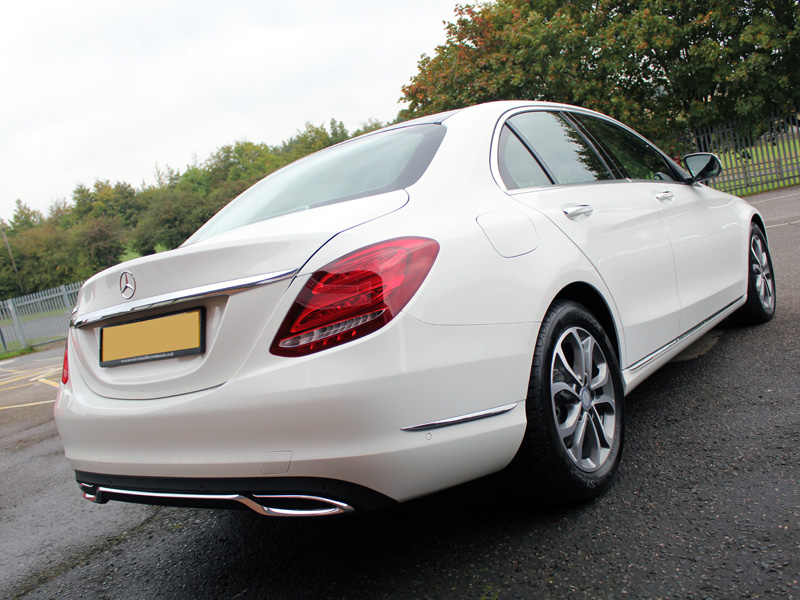 Pro Tip
The top picks of car wax brands include Optimum Car Wax and Durogloss Aquawax.
Related Discussions, and Site