CLS63 AMG Shooting Brake Rendered
Content provided by BenzInsider.com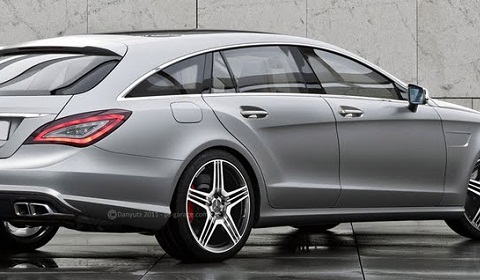 Now that Mercedes has confirmed the CLS Shooting Brake, talented folks from around the globe are showing what imagination and Photoshop can do to realize what can usually be only seen in an artist's mind. Although recent spy shots of the touring-like CLS have made it online, the tasty stuff hasn't been covered, leaving a lot to the imagination.
But if blogger and artist Dan Buzdugan is correct, the CLS AMG
version of the shooting brake will be a very tasty model indeed.
Buzdugan's rendering depicts the CLS with a spoiler and rear diffuser
with quad tailpipes, in keeping with subtly advertising the potential
car's 520 plus horsepower biturbo V8.
A lower stance on top of 19-inch
wheels provides a more aggressive profile. If this shooting brake does
make it to the showroom floor, we can expect the gaping inlets on the
nose that have become a functional and aesthetic AMG hallmark.
Pretty sweet rendering, right? Let us know what you think in the Forums!