3M Venture Shield anyone?
06-21-2012, 12:24 PM
Junior Member
Join Date: Jun 2012
Posts: 25
Likes: 0
Received 0 Likes on 0 Posts
2013 C300 - AMG Wheels
3M Venture Shield anyone?
---
Greetings, new to the forum, recently bought a 2011 C300 luxury model and it's black exterior.

As you guys know, black will tend to show everything and I wanted to see if any of you on here have had the venture shield put on your car for protection.

The dealership wants $650 to get it put on. Is it really effective? Thanks for the feedback
06-21-2012, 02:22 PM
MBWorld Fanatic!
Join Date: Oct 2009
Posts: 2,072
Likes: 0
Nissan GT-R BE / '12 Ducati-1199 Panigale S / '12 C300-4M Loaded/GLK350-4M Loaded
They work great for about two years in certain parts of the country. After that they become a nuisance. We had a client that actually tried to cover his entire car with the 3M version. It took several of us to get if off. There was damage. IMO, it's an exercise in futility.
06-26-2012, 11:51 AM
Member
Join Date: Apr 2011
Location: Derby, KS
Posts: 237
Likes: 0
2005 MB C230K Sport Sedan & 2011 MB C300
I have a clear bra installed on my moms 11 c300 and my 05 c230k.

They were probably the best things I could've ever done to the cars. The 2011 was purchased used but with really low miles. I wish the previous owner would've installed a clear bra when the car was purchased brand new because it was driven for about a year and upon closer inspection you can see all the imperfections on the front end - chips in the paint from debri, rocks, and all the other elements of being on the road.

I had a clear bra installed on it so the damage wouldn't get worse. I've had a clear bra on my 05 c230k for almost 2 years now and it has held up well for my purposes. My c230 is a daily driver and sees snow, rain, sleet, sun, and all the elements that come along with the seasons.

I've drive my car all across KS and across the southeastern part of the united states and it's held up fine and protected the front end from the elements of being on the major highways of the interstate. Sadly, there is a part of the clear bra, somewhere near my driver side headlight that has come undone and small amounts of debri have begun to accumulate.

It's something that I can live with because in order to fix it i'd probably have to have a good portion of that area re-wrapped. I figured i'd get about 3 more years out of the clear bra before redoing it.
06-26-2012, 12:11 PM
SPONSOR/MBworld Guru
I'm going to have to disagree with MBRedux on this. Clear bra is one of the best modifications you can do to your vehicle as long as it is professionally installed and professionally removed. It won't damage your paint and will keep your front end looking new, especially with dark paint. There's some things you have to keep an eye with clear bras though in terms of maintenance (don't use tinted wax as the bra is porous, don't pressure wash at the seams, clean the edges, etc). Most MB dealerships who offer this service just higher outside contractor who deals with clear bras so I'd pass up on that and just go find a pro yourself, cutting out the middle man.

And there is a difference between brands from optical clarity, to size of pores, to size of sheet material available (full hood on w204 is really large as it wraps around the top side of the fender). You'll also want to decide if you want to go with a precut, or custom fit. Custom fit will always be better, but will be more expensive. Precut is ok if you're not picky, but you can see some of the seams and edges as they won't be tucking any. I'm at 4 years on life of my bra and still holding strong.
06-26-2012, 04:30 PM
I should've done this. But then again I wouldn't have a reason to get a different style bumper then would I? I don't think it would've stopped the squirel from cracking the lower crossbar though.
06-27-2012, 06:30 AM
Junior Member
Join Date: Jul 2011
Posts: 43
Likes: 0
Received 0 Likes on 0 Posts
2007 Jeep SRT-8
Films will last much longer than two years. And thats anywhere in the country. For a black car I would recommend either Suntek or Xpel Ultimate. Both have self healing top coats so that yuo wont get scratches in it. Since black shows everything that would be my recommendation. But going with VentureShield Ultra is better than nothing. I have installed Ventureshield for 9 years and recently switched over to the newer technology films that are much less maintenance wise.

By the way I agree with MBRedux to avoid 3M Scotchguard. It will practically leave all the adhesive on the paint upon film removal and will be a pain to get off. That is the only film that does that though.
06-28-2012, 07:14 AM
Super Member
~ venture shield is a great film... i prefer it over the 3M product. xpel offers the best pattern fitment too.
i have installed over 500 kits since '98... fyi hire the best installer because its not the product but the quality of the job that makes the real difference.
i just installed it on my new c coupe (hood, fenders, mirrors, lights, bumper, rockers, door cups and trunk load zone).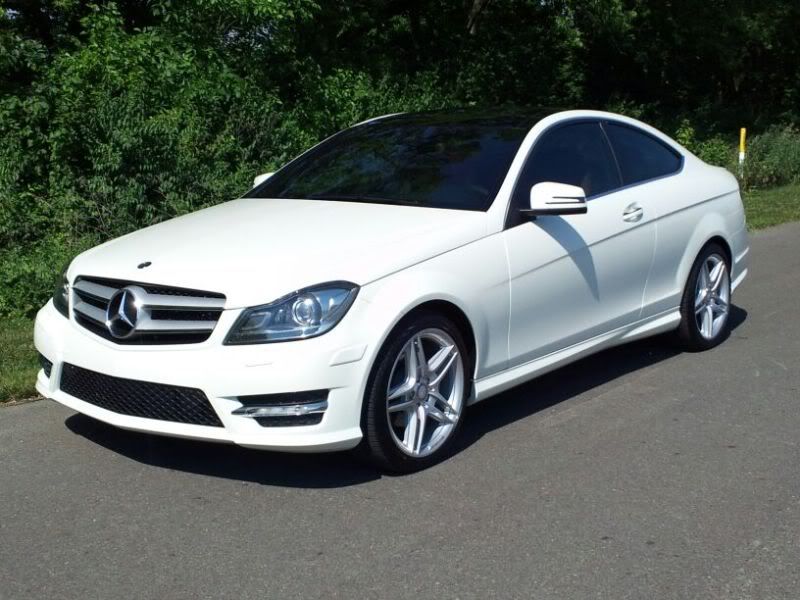 ---
Last edited by andrew e coupe; 06-28-2012 at

07:19 AM

.
06-28-2012, 09:37 AM
Junior Member
Join Date: Jun 2012
Posts: 25
Likes: 0
Received 0 Likes on 0 Posts
2013 C300 - AMG Wheels
Andrew that looks great.

I was approached at the dealership when I bought my C300 to have the venture #M as i was told installed.

They were asking for $680 : inches front hood, bumpers, side mirrors

No side skirt