1999 Mercedes C43 AMG W/ E55 Engine
12-05-2016, 02:09 PM
Member
Join Date: Dec 2008
Location: San Diego, CA
Posts: 201
Likes: 0
W202 C55 (5.4 swapped C43)
1999 Mercedes C43 AMG W/ E55 Engine
---
Need to sell by the end of the year, bought a new toy and cant keep both, No low ballers and no test drives without cash in hand.
1999 C43 AMG With E55 5.5 engine swap
Car has 235k Miles on the chassis, engine has less than 5k miles on it full rebuilt from the ground up M113 E55 AMG 5.5 liter V8 from a 2001 E55 donor car. This car hauls ***.
Wheels: Brabus IV three piece wheels 18x9,5 18x10.5 freshly built by VR Wheels
good tires all around 225/35/18 255/35/18
E55 engine swap
full rebuilt with new
-Water pump
-Thermostat
-Rear main seal
-Rear main seal plate
-New valve cover gaskets
-New breather hose gaskets
-New radiator hoses
-All new fluids, Oil, coolant, trans, etc
Have pictures of entire swap and receipts for all parts used.
Also have documents since cars original Owner Previous two owners were very close friends, car has always been a CA car
Suspension
-Air ride suspension
-paddle valves, 5 gallon air tank, viair compressor
Complete audio upgrade still under warranty
-Sony DSX-S310BTX Head unit
-Alpine Type R Amp
-Hifonics 1000 Watt amp
-JBL GTO608C Speakers and tweeters
-Pioneer TS-D1002R Rear speakers built in tweeters
-MB quart QA800 Amp
Exterior -
Car has been professionally Vinyl wrapped in Oracal Turqoise Lavender
2.5" fender flares all around
Interior-
Extremely rare Black/Blue interior from the factory in great condition.
Diamond stitch / suede headliner
Any other questions feel free to call or text, like I said not in any rush to sell, no low ball offers and no test drives without cash in hand! Thanks
PRICE:
7k As is
5.5K without wheels
619- Five One Eight - 6514
IMG_2453
by
Larry Baker
, on Flickr
IMG_2421
by
Larry Baker
, on Flickr
IMG_2417
by
Larry Baker
, on Flickr
IMG_2415
by
Larry Baker
, on Flickr
IMG_2430
by
Larry Baker
, on Flickr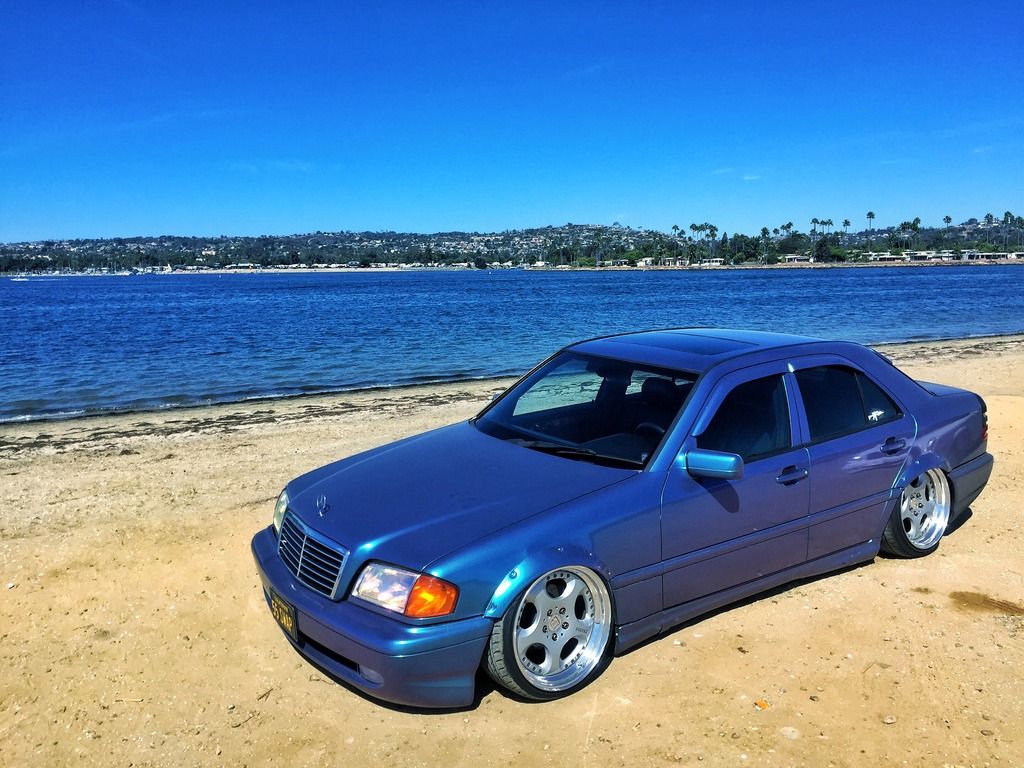 12-07-2016, 01:06 PM
MBWorld Fanatic!
good looking car - do you have any pics of orig color - also looks like the front right bumper gap is off - what is the history? love the flares -

total beast!!!!
Currently Active Users Viewing This Thread: 1
(0 members and 1 guests)