Mercedes-Benz E-Class and E-Class AMG: Why is My Key Fob Not Working?
Forget making a trip to your local Mercedes-Benz dealership for a new key fob. Learn how to diagnose and repair a malfunctioning fob from your home garage (or anywhere else you might be when it goes bad).
This article applies to the Mercedes-Benz E-Class and E-Class AMG (2002-2009).
If your Mercedes-Benz key fob stops working, don't despair. The issue could be a defective battery, or you might need to replace it. Either way, the problem is easy to fix. If the key fob needs to be reprogrammed, this article will walk you through those steps as well. Let's get started with the most obvious (and least expensive) culprit: defective batteries.
Materials Needed
Replacement batteries
Replacement fuses
Replacement key fob (not required)
Step 1 – Check the batteries
They might be defective.
When it comes to a malfunctioning key fob, you always want to start with the most obvious culprit: the batteries. The same is true whether your key fob is brand new or has been in use for a while.
Remove the cover from the back of the key fob by pulling down and out.
Once the key fob is open, remove the battery cover.
Remove the old batteries and snap a new set into place.
Close the key fob.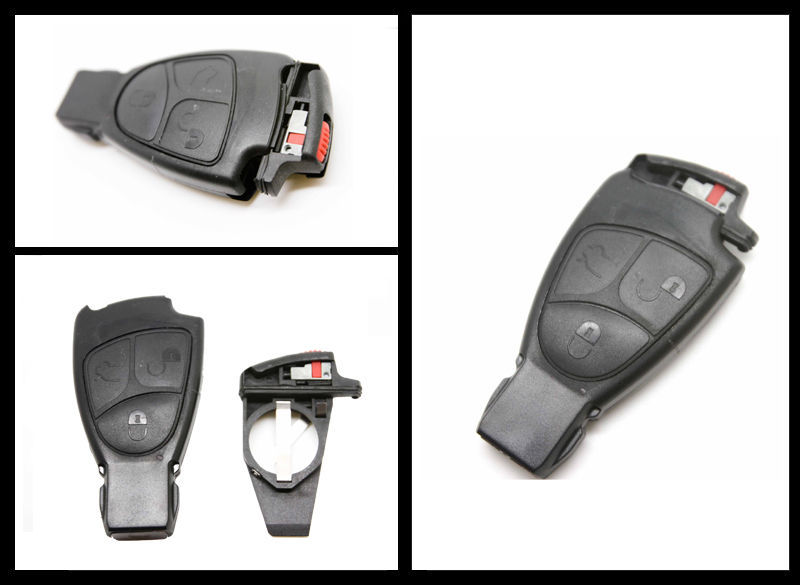 Pro Tip
Replacement batteries are available wherever batteries are sold, including online retailers as well as auto parts stores and Mercedes-Benz dealerships.
Step 2 – Check the fuse for the alarm/antenna module
It might be blown.
If your antenna is not recognizing the "unlock" signal being emitted by the key fob, the most likely culprit is a blown fuse.
Check the fuses in the trunk fuse box.
If the fuse for the alarm/antenna module is blown, this would explain why your key fob is not working properly.
Replace the fuse using a new 7.5 amperage fuse.
If the fuse blows or "pops," your vehicle most likely has a short that will need to be repaired.
Your vehicle's alarm siren could be the culprit; however, attempting to remove it is not recommended.
At this point, visit a local mechanic for professional help.
Pro Tip
You'll also want to check your Electronic Control Modules (ECM) fuses, which are located in the passenger side box.
Step 3 – Have the key fob reprogrammed
It might be malfunctioning.
You'll need to make an appointment at your local Mercedes-Benz dealership to have the key fob professionally reprogrammed.
If there is significant damage to your existing key fob, you might want to consider purchasing a new one.
A new key fob is available through your Mercedes-Benz dealer for $300 and up.
If your new key fob produces a weak signal right out of the package, add new batteries and this should do the trick!
Featured Video: How to Change E-Class Key Fob Battery
Related Discussions