2012 ML63 AMG Seen Near Nurburgring
Content provided by BenzInsider.com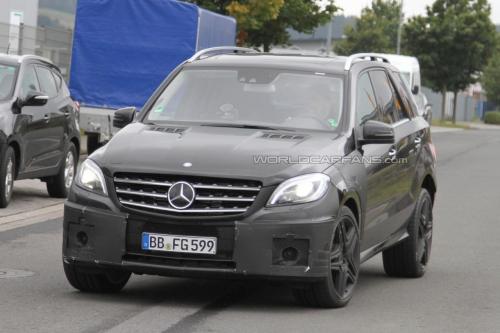 Looking practically production-ready, pictures of the upcoming ML63 AMG have made the online world. To be introduced as a 2012 model, the thinly-disguised prototype showed a revised grill, new bumper contours and a quad-tailpipe exhaust, as if the rumble emanating from under the hood would not be enough to announce this SUV's intent. It's expected to have an uprated suspension, and big brakes can be seen at all four corners, behind the AMG-produced wheels.
Seen in the environs of Mercedes' Nurburgring test grounds, the ML63
is expected to be powered by Mercedes' biturbo V8 which displaces 5.5
liters and generates around 520 horsepower. The torque rating of about
515 lb-ft should be more than enough to launch this SUV with alacrity
and hasten tire life. Transmission would probably be the excellent
Speedshift 7-speed MCT, which would accelerate this sport SUV to 60 mph
in under 5 seconds.
Is this going to be the best SUV on the market? Voice your opinion here!