DIY Oil Change for SLK350 with Pictures
12-10-2007, 04:08 PM
Senior Member
Join Date: Aug 2007
Location: Los Angeles, California
Posts: 383
Thanks: 0
07 CLS63 | 06 SLK350
DIY Oil Change for SLK350 with Pictures
---
There was a DIY posted her a while ago, but I figured since I did one for the CLS last weekend, I need to do one for the wife's car since it was saying Service E Due in 2200 miles.
Tools Required : 8mm & 13mm sockets + wrench. Mercedes Oil Filter removal tool (19$ ebay)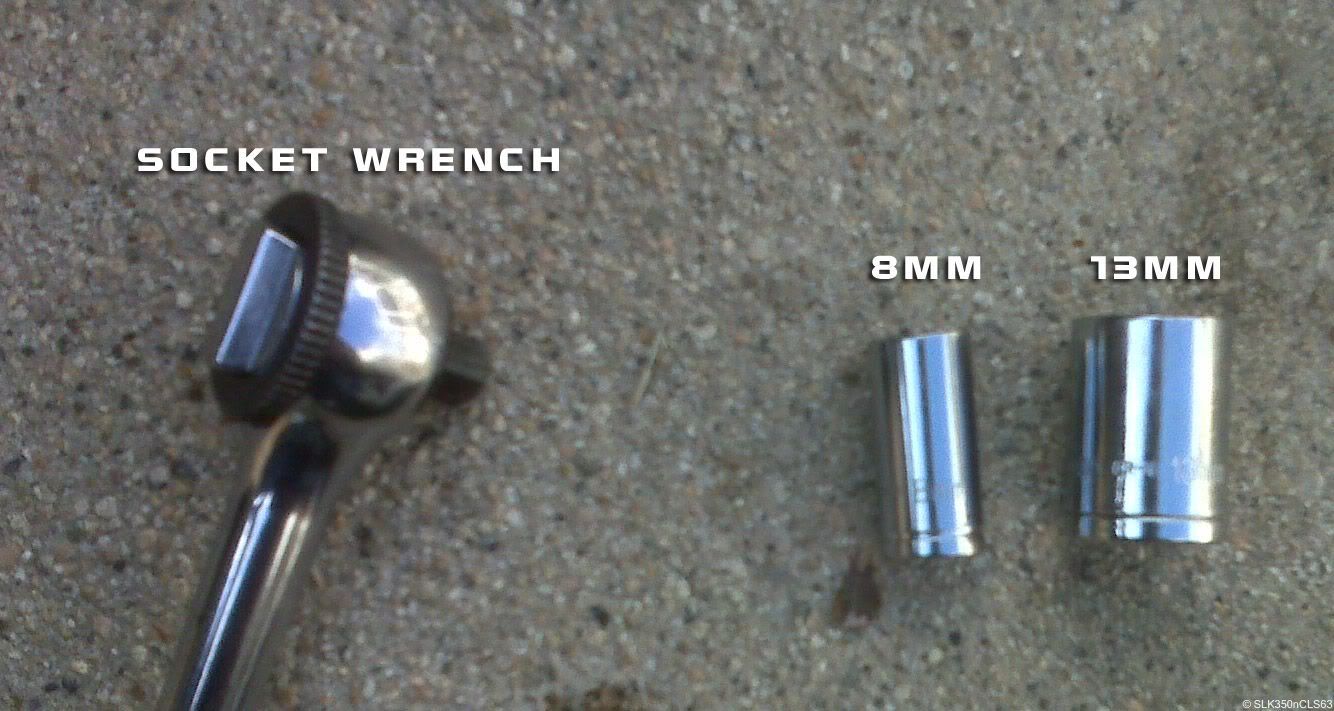 Step1: Drive the Car around to warm up the oil , then drive up the Rhino Ramps, (or jack the car up, whatever is your preference)
Step2: Pop the hood and remove the Oil-Fillup Cap and the Oil Filter. This is optional , but I feel like I'm relieving the pressure a bit before draining her out.
Step3: Get under the car armed with our 8mm socket wrench, and remove 6 or so bolts holding the 1st plastic piece in place. Then remove the 2nd plastic piece (there are two bolts very hard to find, close to the wheel wells). You will now see the Oil Drain Pan and the Oil Drain Plug.
Step4: Position your Oil Drain container and using the 13mm socket wrench, remove the Oil Drain Plug and let the oil pour out. Go have a snack / watch some TV and let her drip for an hour or so.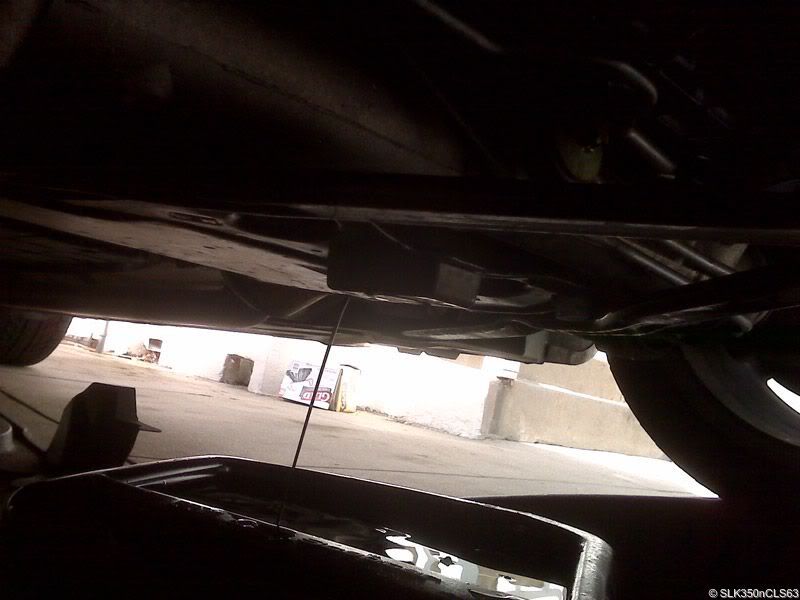 Step5:Remove the Oil Filter using the "special mercedes tool" and a 1/2 drive wrench. remove the old filter, clean the encasing and remove the rubber o-rings. Slide in the new filter, and put on the new O-rings provided. (3 in all)
Step6: Get back under the car, Put the Drain Plug bolt back on (don't forget the washer) and wipe the area clean (to check for leaks later)
Step7: Pour in about 5qts of new fully synthetic Mercedes-approved Oil. I used Pennzoil 5w-30, since I live in super-sunny yet not that hot California. You can use whatever you prefer, the last time some people had issues with not using mobil1 or not using 0w-40 etc. If you live on the east coast or where its really cold, you may want to use 0w-40. My car, my choice, same with yours.
Step8: Get back under the car and check for leaks. If everything looks good, put the two plastic pieces back on and drive off the Rhino Ramps. This is very important since you want the car totally level before pouring in more oil to avoid incorrect max readings.
Step9: Pour more oil and keep checking the oil dipstick to make sure you don't go over the max level indicator. I was able to get almost 8.5 qts in... about 8.3 or so I would guess.
Step10: Follow the Service reminder reset procedure and woohoo...you're done!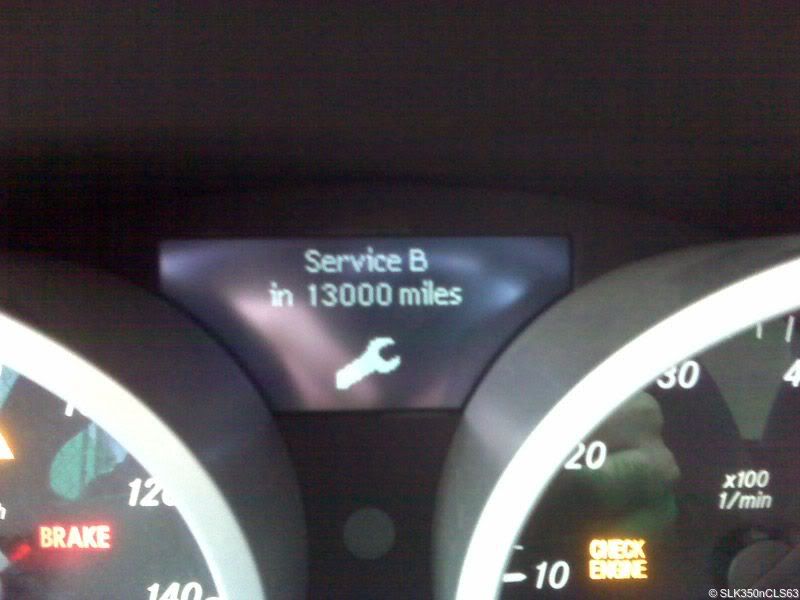 12-10-2007, 11:46 PM
MBWorld Fanatic!
Join Date: Feb 2006
Location: Kuwait City, Kuwait
Posts: 1,435
Thanks: 0
Thanked 0 Times in 0 Posts
G55 & SLK55
Thank you for the detalied pictures.
03-17-2008, 08:29 PM
MBWorld Fanatic!
thx for the write up.. wow almost 9 bottle
well eeven my 2.3 I4 take 7.5-8 bottles...
btw you can buy oil wrench from autozone for 5bux
06-05-2010, 05:59 PM
Newbie
Join Date: Jun 2010
Posts: 3
Thanks: 0
Thanked 0 Times in 0 Posts
SLK350
Why don't you show us how to reset the reminder too ? Thank you ,thank you .
van431
06-07-2010, 01:40 PM
MBWorld Fanatic!
Join Date: Sep 2004
Location: Colorado, USA
Posts: 1,174
Thanks: 0
Thanked 0 Times in 0 Posts
MBZ SLK
07-28-2010, 08:22 PM
Newbie
Join Date: Jun 2010
Posts: 3
Thanks: 0
Thanked 0 Times in 0 Posts
SLK350
schedule maintenace 'D'
---
Hi everyone ,My SLK350 - 05 is almost 59.000 ml and the reminder show the next schedule maintenance 'D' will be performing ,I want to do it myself so anyone can held what do I need to complete the schedule 'D' (I am the first time to own the MB )
The next question is :What are the schedule 'D' Thank you and appreciate
Van431
07-28-2010, 09:06 PM
Newbie
Join Date: Jun 2010
Posts: 3
Thanks: 0
Thanked 0 Times in 0 Posts
SLK350
Originally Posted by
Ynot
Thank you so much Ynot . I got that
Van431
---
Last edited by van431; 07-28-2010 at

09:12 PM

.
09-15-2015, 09:13 PM
Newbie
Join Date: Oct 2010
Posts: 1
Thanks: 0
Thanked 0 Times in 0 Posts
slk350
SLK 350 Oil Filter Change - Cap Torque Setting
---
I have been changing my vehicle oil and filters for years, but Friday I had a near disaster. For the first time I used a non-OEM filter kit. I followed my procedures as always except for using a torque wrench on the filter cap. I couldn't remember or find the proper torque setting. I tightened the cap using the MB tool and a box end wrench. After filling the oil and running to check for leaks I thought all was well. Later I took off to meet a friend for lunch. Once I got out on the highway I took her up to 55mph. Shortly after I looked in the rearview mirror and noticed blue smoke. I pulled over shortly and found oil all over the engine. The o-ring had popped up and allowed oil to spray everywhere. My wife drove down to my location and I replaced the O-ring with the OEM ring that had been in the car. I added 3 qts of Mobil 1 0-40 and limped back home. After a through cleaning of the engine and verifying the condition of the O-ring I torqued the cap to about 18 ft lbs.
All seems well. I've seen suggestions that hand tightening is enough; but in the future it's OEM filters and torque wrench for me.
Thread
Thread Starter
Forum
Replies
Last Post
Currently Active Users Viewing This Thread: 1
(0 members and 1 guests)
Posting Rules
You may not post new threads
You may not post replies
You may not post attachments
You may not edit your posts
---
HTML code is Off
---