My first AMG: 2018 Mercedes-AMG E63S - White Lightning
02-03-2018, 05:12 PM
Super Member
My first AMG: 2018 Mercedes-AMG E63S - White Knight
---
I've been trying to buy an E63S since mid-December, but finally was able to close a deal. Managed to get 11% off between dealer discount, United Premier incentive, and Mercedes just giving me $4k towards the purchase as goodwill given the fact we had placed an order for the GLC63S back in June. Thanks to @v8plus4 for introducing me to his dealer, and to @vic55 for providing tons of information on pricing and configuration.
Really happy with the car. I have owned 2 M5s previously but never an E63. But this car is exactly what I wanted. Well not exactly as I would have ordered it in Matte Gray, but this car is going to be my wife's daily driver and she only likes white or red. The Diamond White really does look stunning though when combined with the light interior.
Initial driving impressions - after 1 day:
Handling is phenomenal for a car of this size. I was really able to carry a lot of speed into corners, and then get early on the throttle on exit. It's conducive to the same driving style I have with my 911 Turbo S, so I enjoyed giving this car a shake down on the local roads. Honestly I think it crushes my 2014 M5 with Dinan Suspension in handling. I still think the Panamera Turbo felt a bit smaller when driving, but this car feels very precise and gives you the confidence needed to push the grip.
The luxury and ride quality is fantastic. When I first test drove an E63 at the dealer it felt harsh, but this car with more normal tire pressures, drives really well. The ride quality is maybe even slightly better than our C300 when in comfort mode.
The acceleration - wow. I believe C&D's figure of 0-60 in 3 seconds. It feels really close to the acceleration on my 991 Turbo S, and above 60mph it seems faster and more effortless than the Porsche (bear in mind I haven't tuned the Porsche).
Sound - I was a bit apprehensive about buying a car without the performance exhaust. However given that the car does not have the acoustic package, I can hear the exhaust quite well. The sound is awesome. I love the burbles and cracks. It sounds aggressive and you can hear every time you are on the throttle, even at lower rpms. It is the second best sounding car I have owned (after my Jaguar F-Type R). It sounds better than the M5 even with the aftermarket full eisenmann sport exhaust on it. I can only dream how good the car would be with Perf Exhaust and no Acoustic Comfort Package.
The technology is superb. The wide-screen nav is way better than the narrow screen nav in our W205. It adds CarPlay support. The surround view cameras are really crisp and the different views they have are really useful and well thought out. The whole thing is very click and usable, and the graphics are sublime.
I love the massage seats. Have been leaving them on all the time. This is the first car I have driven which has usable massage seats. The BMW ones were awful and unusable
Some pictures here: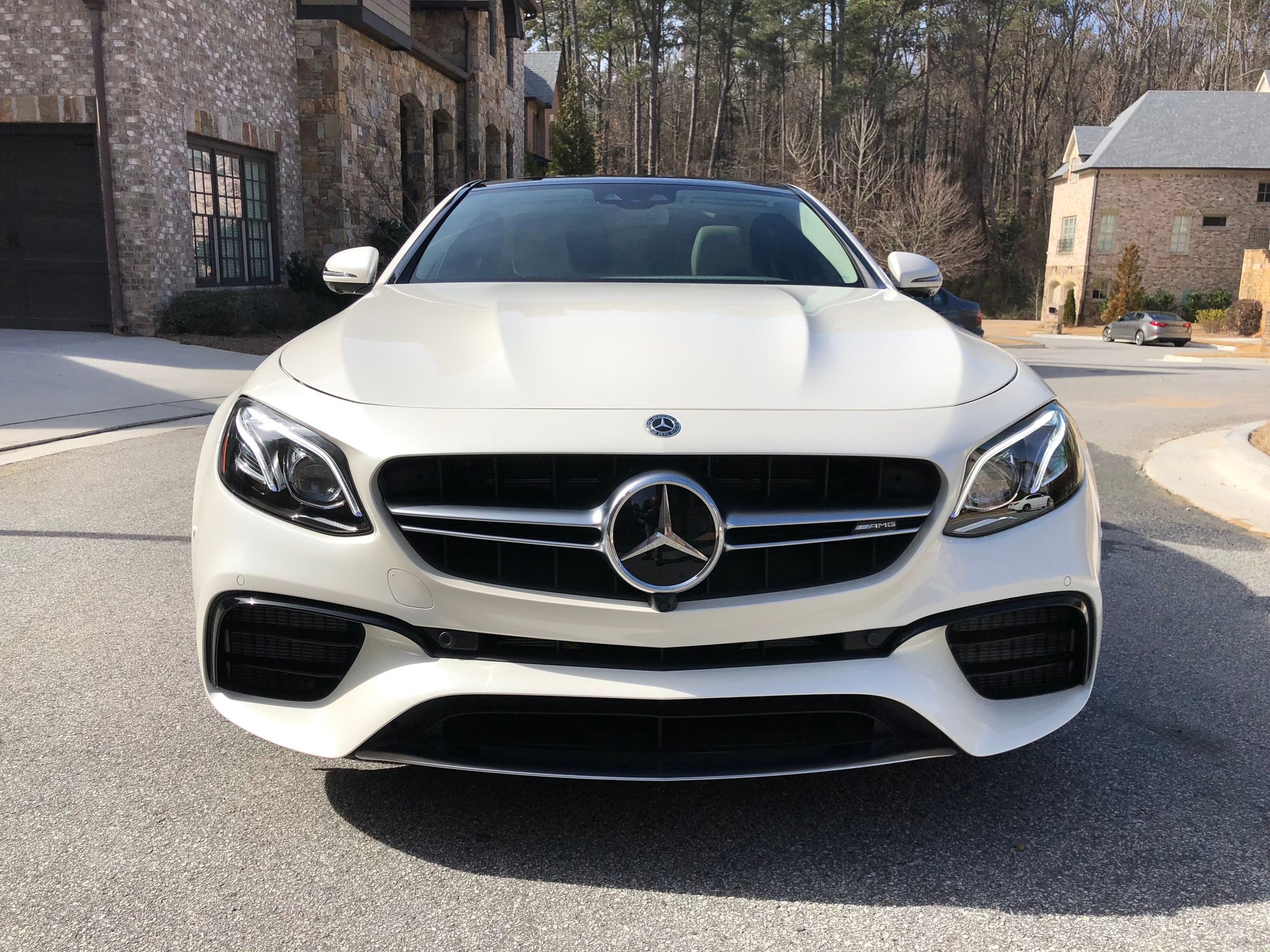 ---
Last edited by stealth.pilot; 02-05-2018 at

09:06 PM

.
The Following 4 Users Say Thank You to stealth.pilot For This Useful Post:
02-03-2018, 09:01 PM
Junior Member
Join Date: Oct 2017
Posts: 71
red wagon
like the color combo. Enjoy!
02-03-2018, 11:49 PM
Super Member
02-04-2018, 12:16 AM
Super Moderator
Join Date: Nov 2001
Location: THE Orange County, California
Posts: 11,436
2017 Audi R8 V10, 2016 AMG GTS, 2018 E63S Edition 1, 2018 Porsche GTS Cab, 2012 C63 BS
Mit now thats a car!!!! Congrats. Hope you really love it (I mean your wifey LOL)
02-04-2018, 02:31 AM
Member
Join Date: Feb 2012
Posts: 105
'18 E63 Wagon, '14 E63 Wagon, '00 M5
Nice car combo, both color-wise and as a diverse toolset. That E63 is such a sleeper in Designo white. Congrats!
02-04-2018, 11:00 AM
Super Member
Join Date: Jun 2004
Location: 30-A
Posts: 665
15 E63 S
Beautiful combo, congrats! I'm glad it worked out.
02-04-2018, 11:24 AM
MBWorld Fanatic!
Join Date: May 2002
Location: Midwest.
Posts: 4,237
'18 E63s ED1, '17 SL550, '14 ML350
Congrats! Beautiful ride and a great deal. 11% is some of the best I have seen.

Enjoy!
02-04-2018, 12:35 PM
Member
Join Date: Mar 2015
Posts: 242
2016 Mercedes-AMG E63 S Sedan
Great Cars, house and deal. Enjoy.
04-03-2018, 05:01 PM
Question, how beige is the Macchiato interior. Is it closer to white like in the e63s media photos or it more on the brown side. I have this color coming on a car I order and an worried it will be too brown.
04-04-2018, 10:58 PM
Super Member
Originally Posted by tonymiabmw
Question, how beige is the Macchiato interior. Is it closer to white like in the e63s media photos or it more on the brown side. I have this color coming on a car I order and an worried it will be too brown.
It's a lighter beige. Very similar to what BMW calls oyster. It's much lighter than Porsche's beige or BMWs Venetian beige.
Go to a dealer and ask to see one. They have the color on the S Class so you should see Macchiato Beige Nappa on the lot.
Currently Active Users Viewing This Thread: 1
(0 members and 1 guests)